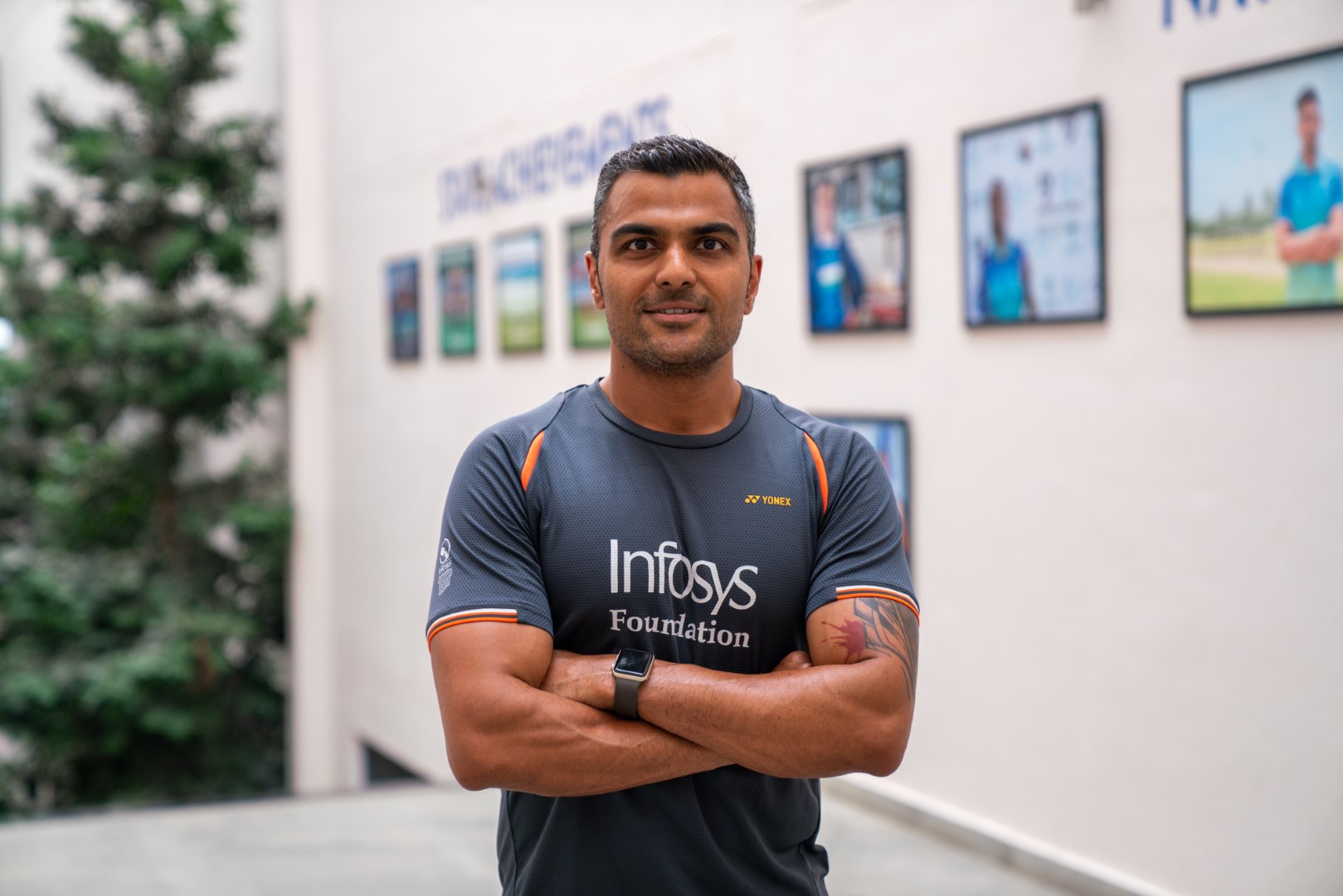 Amit Vengurlekar – Head S&C Coach, Prakash Padukone Badminton Academy
You don't need to be technically sound to feel the pressure of a nail-biting finish to a tough game, in any sport. I'm certainly not a badminton player, but I've seen the best play from the sidelines and I can tell you, the tension builds, your legs shake, you sway back and forth in your chair and you cannot stop fiddling with whatever comes to your hand. 
Sure, I am a fan, but I also work so closely with athletes that I sometimes feel the twitch of a muscle or that piercing pain you feel when you push yourself to the limit. I know exactly which muscles are weak, which ones are strong and how much load the body of a particular player can take. I'm not boasting, it's just my job to know, as a Strength & Conditioning (S&C) coach, I have to keep track and ensure all my players are training right, feeling good and are fit for their games.
Back in 2010, I graduated in Physics and was trying to figure out what to do with my career. All my friends were pursuing MBAs and I too began to look in the same direction, but deep down I knew it was not something I would have enjoyed doing. Luckily, my sporting past came to my rescue. I played cricket in school and university and I happened to know some individuals who were deeply engrossed in the world of S&C. As a fitness enthusiast myself, it caught my eye and I felt an instant connection to this field and that is when I decided to get into it.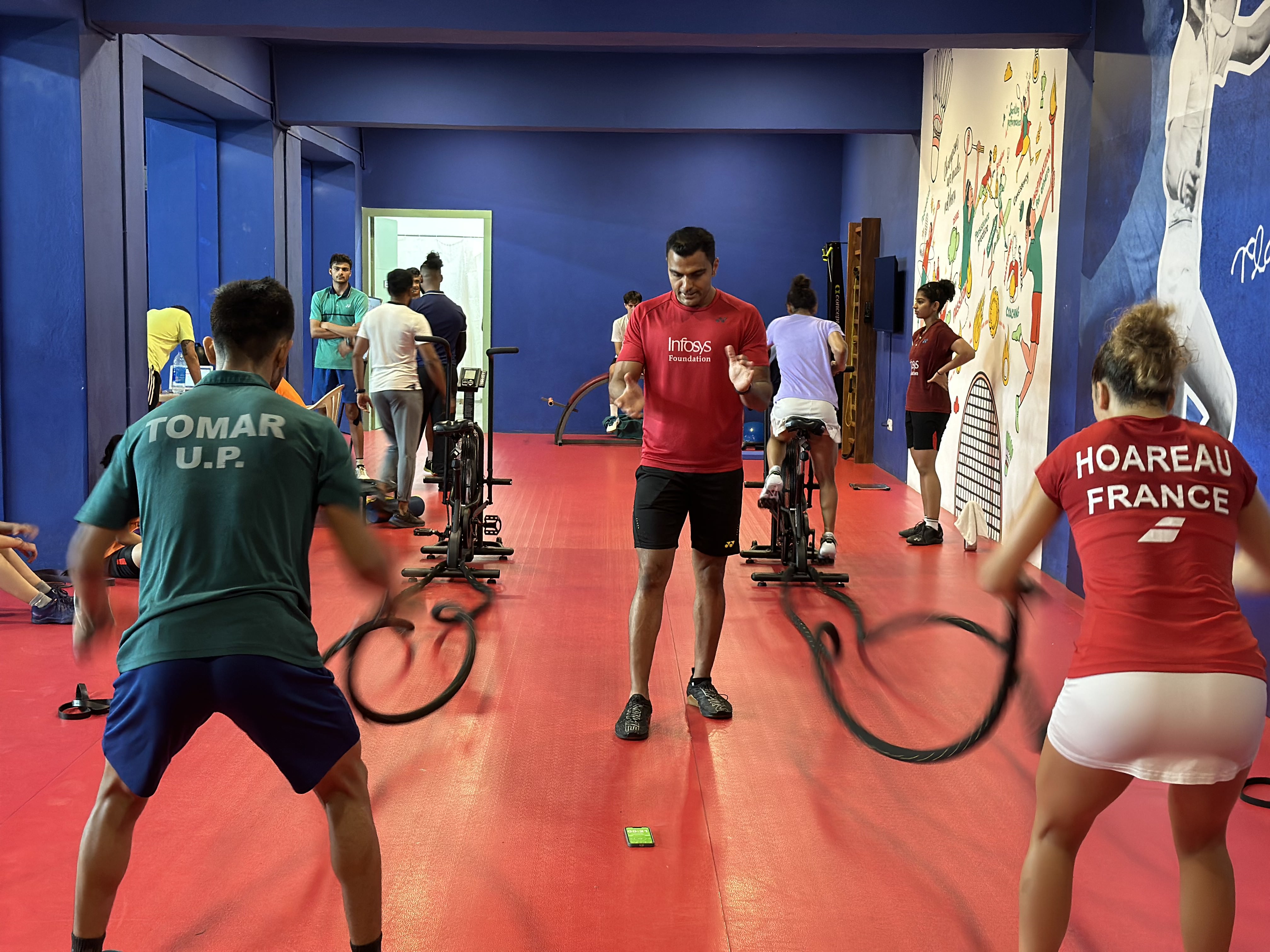 Diving into the S&C world wasn't as smooth, as it wasn't a well-established profession yet. I certainly faced a lot of resistance from my parents and friends after this decision but my passion kept me going. For five years, I worked with various cricket academies and athletes gathered valuable experience and eventually headed to Australia to pursue a bachelor's degree in Exercise and Sports Science. While I was studying, I had the privilege of interning with the state cricket, football and basketball teams. Eventually, I started working with the Western Australian Cricket Association as Physical Performance Coach, I worked with some of the top cricket athletes there.  After spending five years down under, I moved back to India and destiny brought me here to Prakash Padukone Badminton Academy, working with some of the brightest young talents in the badminton world.
I have had the opportunity with so many of these players, and I can assure you, it is certainly a challenge. My role in any athlete's life is quite complex, there's so much more to building an athlete and creating a world-beater than just spending hours on the court or the pitch. And my job certainly is much more than just creating a workout program and ensuring the player lifts dumbbells and does his squats. Behind every athlete, there is a team, all of whom have to be in perfect sync if they have to produce results. The coach becomes an integral part, as all other sessions have to be designed around the technical side of the sport. The physio is another important piece in the puzzle because without his input I would not be able to design a program to cater to his body, the last thing we would need is to overwork an injured muscle. You then have a nutritionist who has to be in sync with you, to ensure the athlete's getting the right nutrition at the right time and your energy systems are replenished for all the work that has to be done. With all of these people in mind, I would have to ensure I am creating a program that suits the sport, conforms to a calendar of events and is in line with his nutrition and recovery plan.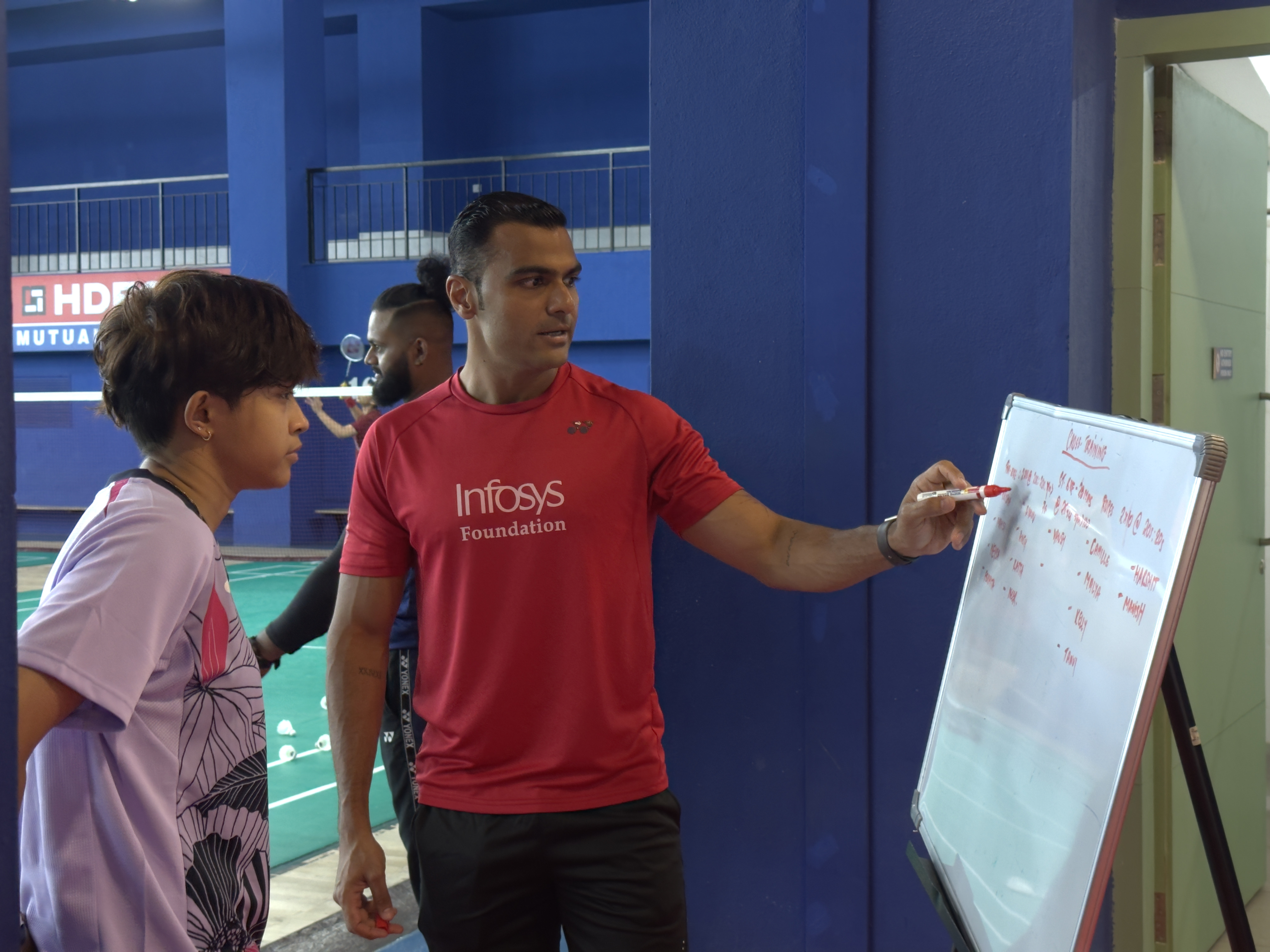 While a lot of them are expected to perform seamlessly, there are so many factors to consider when you're on the road. It becomes a huge responsibility for me to ensure they feel as comfortable as they are in their home ground. You tend to be in an unfamiliar place, you're not sure of the equipment that's available that you can use for your athlete's training, you don't find the right type of food to ensure you're getting the good nutrition, and with back to back matches and tournaments, it's really hard for athletes to get rest and recover. This made me realize how important home-ground advantage is. If an athlete is able to perform despite all these limitations, you have to appreciate them cause it certainly is an uphill task. 
While it is always advantageous to have an S&C coach with you, it isn't always possible for so many reasons. Much of your preparation happens well in advance of the tournament being played, there's only so much you can do before a tournament. My job is more to provide the know-how and equip athletes with the tools to be able to handle themselves when they are on the road, as more often than not, in an individual sport like badminton, it isn't easy for athletes to travel with a big team catering to all aspects of their needs.  
Trust is the foundation of any successful coach-athlete relationship, and I make it a priority to establish open lines of communication where athletes feel comfortable sharing their thoughts, concerns, and aspirations. Understanding that every athlete is unique, I take the time to listen to their individual needs and goals. This personalized approach allows me to tailor training programs that not only enhance their physical abilities but also cater to their mental and emotional well-being. The satisfaction I get when I see a player who used to struggle with a certain aspect of their game, conquer this shortfall because of the work we did at the gym, is always a pleasant sight to see.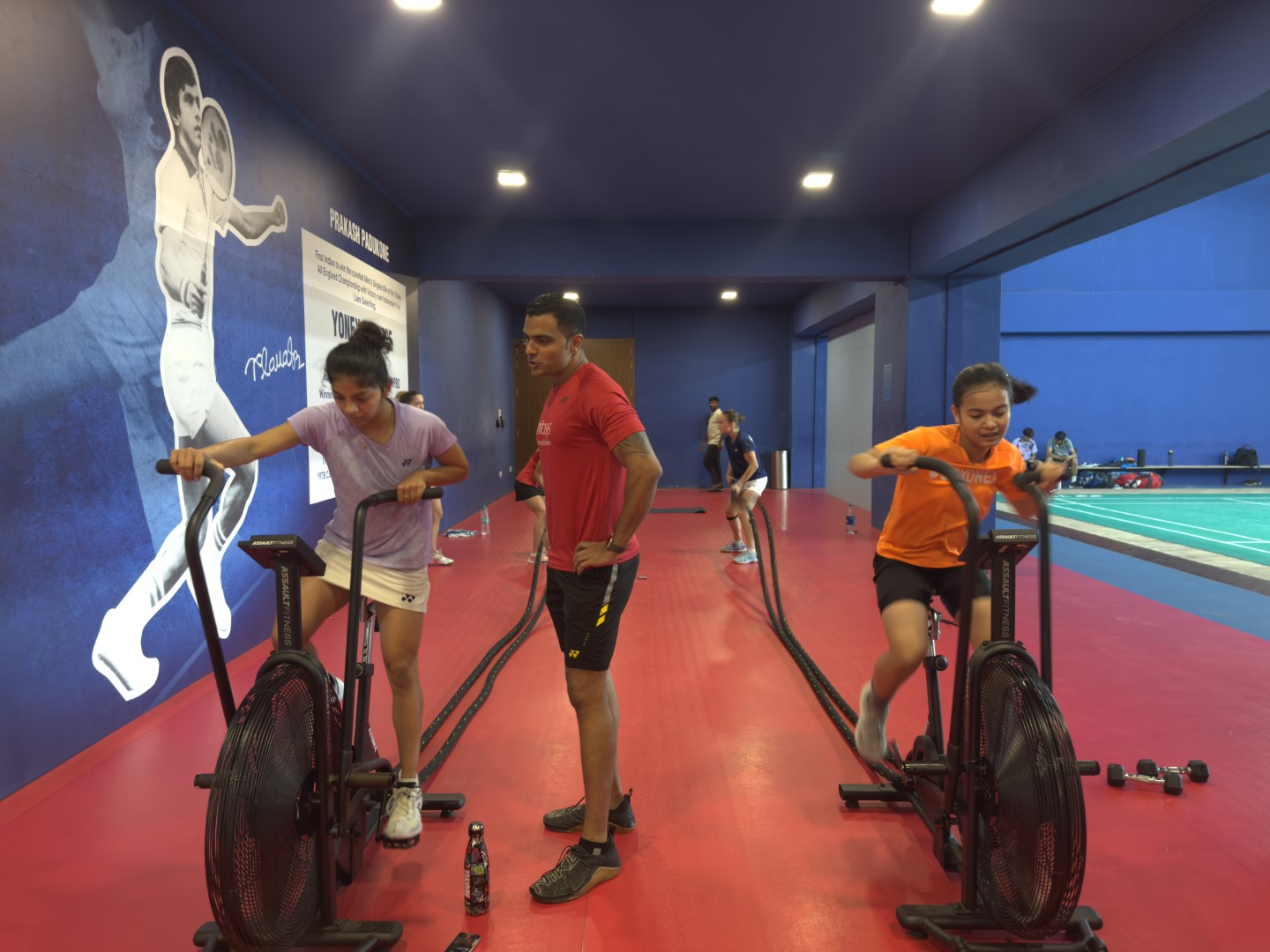 While I certainly would love to travel with athletes for their tournaments, my work is largely done at home, much before they can even think of their tournaments. I have always liked to believe preparation is key in tournaments, perfection is only a byproduct of all the work that is done diligently at home. You can already tell how an athlete would fare in a tournament if you have worked with them in the gym, as you are aware of whether they are at their 100% or not. 
My goal in life has always been to keep learning and getting better. I am planning to get the next level of certification from the Australian Strength and Conditioning Association. I want to attend international conferences, network with people across the world, share my work with them and learn about their work. I am also keen on doing some research in the field and publishing my findings from it. We have all the facilities here to do so, including cutting-edge technologies like catapult GPS units, force plates, and speed gates to monitor different parameters of athletes' fitness. 
During some of my travels with young athletes, I am quite nervous for them during their games, as it's only natural to be anxious. However, I ensure I don't show it as I have to be there to support them. But the preparation process we have gone through in the time leading to the tournament gives me a lot of confidence. Understanding your strengths and weaknesses and preparing for the worst is the easiest way to conquer any uphill task. But unlike a technical coach, I cannot affect change during the game, my work begins well in advance and immediately after any tournament and for that I am always prepared. 
While I sit on the sidelines and watch a close match coming to an end, I've got my notes and observations ready, and with the last point of the game, I dust off my hands and get off the chair, as I know the work begins again.